Deprecated
: The PSR-0 `Requests_...` class names in the Requests library are deprecated. Switch to the PSR-4 `WpOrg\Requests\...` class names at your earliest convenience. in
/var/www/wp-includes/class-requests.php
on line
24
Get posts like this directly sent to your inbox:
100% Privacy. Your email is safe with us. No spam ever.
Bone broth has quickly become one of the most popular health-boosting additions to the kitchen table over the past 3-4 years.
But it's not a new health fad.
In fact, throughout history societies have used bone broths extensively in their cooking.
From chicken soup to beef stew, bone broths were a staple of traditional diets in nearly every culture.
Bone broth was valued by traditional cultures because it's packed with nutrients, easy to digest, rich in flavor, and loaded with restorative amino acids.
Preparing bone broths was also a way to use every part of the animal. So nothing was wasted.
In many ways, it's a lost art. We've abandoned our traditional diet. And now it's replaced with processed and packaged foods.
Only now, centuries later, are we realizing that there are significant health benefits to consuming bone broth.
Which is why this ancient technique is getting revived once again.
What is Bone Broth?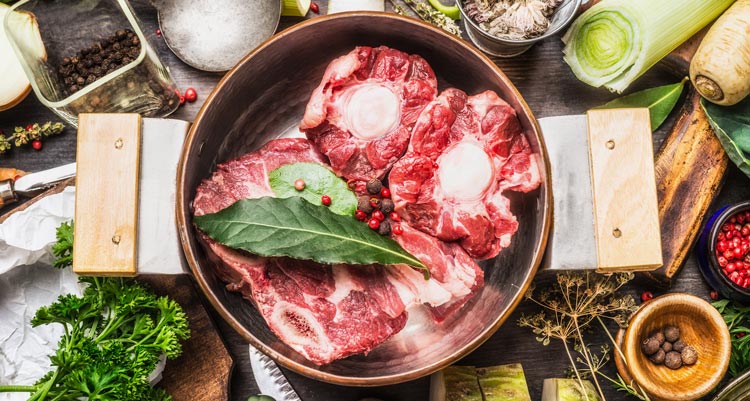 Bone broth, or stock, is made from boiling and then simmering bones, organs, marrow, ligaments, cartilage, and feet over a couple days.
Most recipes use an acid such as apple cider vinegar to help these components break down.
The slow simmer causes the bones and other components to release a wide range of healing compounds that we don't normally get in our diet.
While it doesn't sound very appetizing, the result is a tasty, yet nourishing broth.

What Makes Bone Broth So Healthy?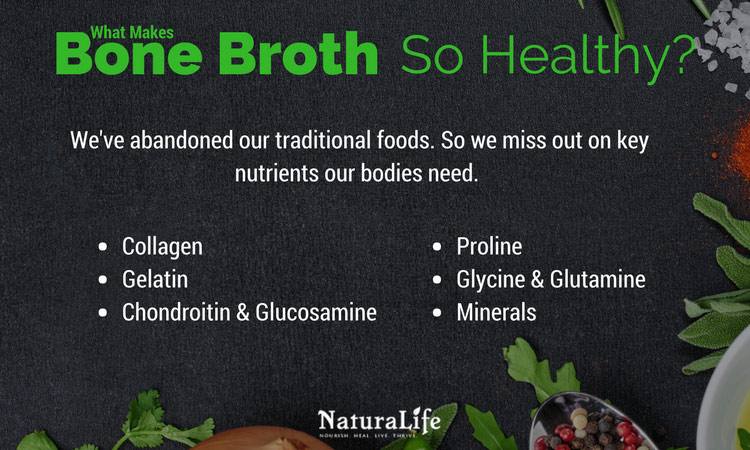 Our eating habits and farming techniques have dramatically changed since the pre-industrial era (before factories, mass-production, etc.).
Today it's a lot less common to see people using the whole animal.
I bet if you mentioned liver or chicken feet to anyone, you'll likely get a disgusted look in return.
That's because we have strayed from our traditional cooking techniques. So it sounds alien.
The problem is, combined with unhealthy eating habits, many of us are severely deprived of nutrients that keep us healthy such as…
Gelatin

Chondroitin

Collagen

Proline

Glycine
All of which can be found in bone broth.
But that's not all.
According to the researchers at the Weston A. Price Foundation, bone broth also contains minerals that are easily absorbed by your body (1).
Normally your body has a tough time getting minerals such as magnesium, calcium, phosphorus, sulphur, and phosphorus.
In bone broth, however, these minerals are readily absorbed by your digestive system.
With all the nutrients found in bone broth, it makes perfect sense that it delivers some impressive health benefits.
Collagen

Chondroitin

Glucosamine

Gelatin
Where to Buy Bone Broth
If you're a busy body and would prefer to just buy your bone broth, these are the brands I suggest:
Brodo Broth
I received a trial from them and they are my favorite brand of bone broth I have tried so far. Their flavors taste exceptional. Everything is high quality and they use all organic ingredients.
Kettle & Fire Broth
Kettle & Fire has both chicken and beef broth. The company is endorsed by many health experts and bloggers. It's all organic and pasture raised.
Ancient Nutrition Bone Broth Powder
If you're one of the few people who can't stomach bone broth, I highly recommend the protein powder by Ancient Nutrition.
How to Make Bone Broth
If you want to protect your wallet, I would recommend making your own bone broth.
To save even more money, I usually save the chicken or beef bones from every meal instead of buying the bones. So if I make a whole roasted chicken, I'll save and freeze the carcass along with the bones.
Once I have enough bones to make a broth, I'm good to go.
Alright, I've done plenty of rambling in this post, so let's get right to the recipes. A shout out to the Weston A. Price foundation for this recipe. I'm a huge fan of what they stand for.
Bone Broth Recipe
1 whole free-range chicken or 2 to 3 pounds of bony chicken parts, such as necks, backs, breastbones and wings*
gizzards from one chicken (optional)
2-4 chicken feet (optional)
4 quarts cold filtered water
2 tablespoons vinegar
1 large onion, coarsely chopped
2 carrots, peeled and coarsely chopped
3 celery stalks, coarsely chopped
1 bunch parsley
Note: If you're using the broth for a fast for issues like SIBO or leaky gut, I suggest NOT adding any vegetables or parsley. It won't taste as good, but these vegetables have sugars which can defeat the purpose of a bone broth fast.
---
If you haven't already, roast the bones / chicken. If it's just bones, roast them at 450°F for 15-20 minutes.
If using a whole chicken, cut off the wings, and remove the neck, fat glands, and the gizzards. Cut neck and wings into several pieces.
Place chicken into large stainless steel pot with water, vinegar, and all vegetables besides the parsley.
Let it sit for 30 minutes to an hour. Bring to a boil and remove any "scum" that rises to the top.
Reduce heat, cover, and simmer for 6-24 hours. Add parsley 10 minutes before removing it from the heat.
If using whole chicken, remove the chicken and use it for other uses like sandwiches or chicken salad.
Strain the stock to remove any particulates and place in the fridge. Once it cools, skim off the fat (I save this for cooking). Your stock is now ready to be consumed or used for tasty dishes!
The process is similar for beef and fish stock, but if you want to learn how, go to the end of this article.
The Bottom Line
Bone broth is a nutrient-dense food packed with an impressive list of health benefits.
Unfortunately, you can't just get any ordinary bone broth at to the store to take advantage of the health benefits. Most store-bought broths or stocks are filled with artificial flavorings, additives, and made with low quality ingredients.
There are, however, a few brands that do produce high-quality bone broth (I mentioned them a few sections up).
You can either get it from these brands or, make it yourself.
So what are you waiting for? Give bone broth a try and see the difference it can make in your life